5 Beautiful Wood Fence Styles
If you are looking for beautiful fence designs, look no further. Mossy Oak is the leader in Florida and nationwide in custom fence design and sales. Our innovative manufacturing process and expertise create a fence design that will be beautiful and practical for many years to come. Check out our most popular 5 wooden fence styles from Mossy Oak.
Cross Frame Privacy
The cross-frame privacy eliminates the standard 3 rail frame used on most privacy fencing. This is a popular choice because when used around backyards with pools, this frame reduces the possibility of someone using the framework to climb over by placing the framework inside while keeping the outside a smooth no climb surface.
The cross-frame style is also a favorite among builders and developers for sub-division entrances and perimeters because of its sturdiness and rustic outdoor appeal.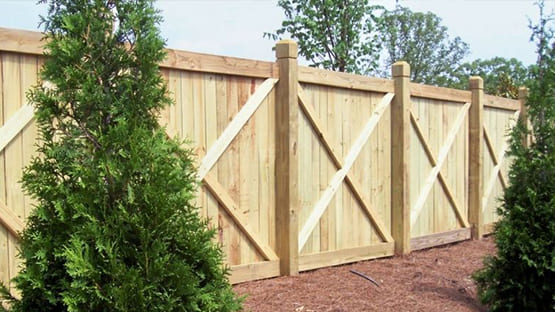 Horizontal Wood Fence
Horizontal wood privacy highlights a modern appearance while still maintaining complete privacy and security for your property. With a variety of materials available to choose from, you can be sure to find the exact look you are searching for.
Dog Ear Wood Picket Fence Style
To create this "dog-ear" look, the picket tops are removed at an angle. This is a very traditional fence style and very economical. This design allows wind to pass through the spaces of the fence line. The dog-ear look is created by cutting the top off of the pickets, forming an angle. Western red cedar is preferred when building our wooden fences; in addition to western red cedar, we can also create most styles out of pressure-treated pine. Red cedar, we can also build most styles out of pressure-treated pine.
Saddle Cut Wood Privacy Fence
The saddle-cut or concave picket fence style is a great way to add character and details to a traditional wood picket fence. This style replicates a proper saddle shape in each fence panel. Our saddle-cut wood picket fence is ideal for customers who would like to contain children or pets but desire to keep the view from their yard. Using the same technique as our Dog Ear Wood Picket Fence style, you will find this saddle cut wood privacy fence to be both appealing and practical. The saddle-cut wood fence is a stylish choice for many different properties.
Mossy Oak
Mossy Oak Fence has the most creative designs available in Central Florida. As with our wood fences, we continue to bring quality to the consumer with our custom stick-built (no pre-built panels) wood picket fence designs. At Mossy Oak, we custom-cut each picket and post with innovative machinery at our facility in Tavares, Fla. Whatever picket fence style you choose; Mossy Oak Fence is the custom fence contractor of choice for consumers throughout Orlando and all of Central Florida! Call us today! 407-972-1490